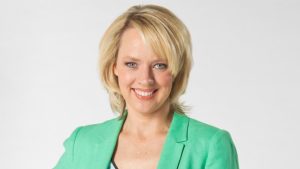 SUSIE O'BRIEN, Journalist
Herald Sun, News Corporation ASX:NWS,
31 September, 2016
The story 'Geoff's certainly one for the ages' is gutter journalism at its worse.
There were never 3 Lamborghinis with the alleged number plates.
To infer that the delivery of 20,000 babies and owning a nightclub "Centrefold" might not be accurate is true gutter journalism as no effort was made to confirm the facts.
The rest of the story is punctuated with blatant lies.
There were no trips to the supermarket in a Rolls Royce Phantom.
Edelsten never was in love with his secretary. It was a longstanding professional relationship. But why should this gutter journalist find and publish the truth. Why
Why not mention that 2 Supreme Court judges have found that his conviction and deregistration was false.
To mention the ATO when there is nothing owed to the ATO, and they are not snapping at his heels is just horrific gutter journalist.
O'Brien has breached the Domestic Violence Law and the Intervention Order granted Edelsten over Grecko, which makes her a criminal advocate by her quoting Grecko and her behaviour.
Geoff's certainly one for the ages
T'S Melbourne Cup time so of course I'm hoping Geoffrey Edelsten and his new love put on a show for us all to enjoy.
Will there nudie runs in the Birdcage? Perhaps the good doctor will party in the member's carpark in his matching trio of Lamborgbhinis with numberplates MACHO, SPUNKY and SEXY?
Or will there be a re-creation of his 2014 proposal to then girlfriend Gabi Grecko, who said yes then promptly lost the $50,000 engagement ring under a couch in the Emirates marquee?
It's hard to imagine, but there was a lime when Prof Dr Geoffrey Edelsten (as he calls himself) was reversed for his business acumen, charitable works and career success.
That was about four blondes ago.
This, after all, is the man who put mink on doctors examination tables, rescued the Sydney Swans in the 1980s and takes credit for discovering John Farnham.
He's probably also the only doctor who claims to have delivered 20,000 babies and run a nightclub called Centrefold.
When news hit this week that
Edelsten had a new squeeze – Ashley Kirk, a 26-year-old star of
playboys 2011 Student Bodies website – my first reaction was to wish he'd just put his ageing pecker in his pants and leave it there.
But the more I thought about it, the more I bad to grudgingly admire this septuagenarian Lothario.
I like the fact that he's such an Individual.
I like the fact that be has the chutzpah to claim his new girlfriend likes him for his intelligence and not his money.
Edelsten told reporters this week that the beguiling blonde is attracted to him because he's got "a lot to offer".
"I have seven masters and two doctorates and can help mentor her career," Edelsten said.
So maybe the fact that he Just inherited many millions after his mother's death has something to do with it, but who knows?
Edelsten dismisses any talk of age gaps, simply saying he "likes younger women".
He may be in his 70s but I also like the fact that he doesn't act his age or look like it (from the neck up, anyway)
It's hard to imagine him ending up with a nice 70-something divorcee organizing bridge foursomes and early dinner dates.
This is one man who's refusing to age gracefully.
In fact, he's refusing to age at all
As the years have passed, Edelsten's hair has become darker, his skin tighter and his women younger.
His first wife was Leanne. She was  21 when they married and he was twice her age. Their wedding
included troupes or dancers, acrobats hanging from the ceiling & and a muscleman draped with an albino python circulating among the 500 guests.
The.n Edelsten married Brynne when he was 67 and she was 27.
After a $3 million who's who wedding, their life was a whirlwind of $8000 jewel-encrusted-dresses and trips to the supermarket in a Rolls-Royce Phantom.
Gabi Grecko followed soon afterwards and after their flamboyant Melbourne Cup engagement, their nuptials were relatively low-key in a Las Vegas registry office kind of way. Four months later the 26-year-old claimed she was divorcing Edelsten, then 72. after he fell in love with his secretary.
Now we hear Kirk's people denying they're even together, despite Edelsten's claims.
Ultimately, Edelsten's love life is a reminder that men's currency is still wealth and professional success and women's is youth and beauty-and the bigger the rack, the better.
But if these women are along for the ride, then what's the problem?
Surely we shouldn't judge them for their pneumatic chests and plastic faces if they're happy?
Perhaps the only casualty appears to have been Gabi Grecko, whose fragile mental health was the cause or some concern, particularly after she had a breakdown amid pregnancy rumours.
Grecko gave good copy, but many wondered if she was paying a high price for such a public relationship.
Edelsten remains a true individual
He pioneered mail-order paternity testing, claimed romantic attachments to Diana Ross and linda Carter and bad TV stars Jason Alexander and Fran Drescher attend one or his weddings.
And let's not forget that his contribution to popular culture will also live on in the songs I Can't Stop Loving You, Baby and A Woman of Gradual Dedicate for the group The Last Straws.
I must say this is refreshing in this age of cookie-cutter celebrities who all seem to have a wellness book or lifestyle biog or new reality TV show to push.
There are few genuine eccentrics who live up to their own hype.
Not bad for a guy who's been in jail, been deregistered as a doctor and lost and woo fortunes many times over.
over.
Edelsten's business dealings may be odd, the tax office is snapping at his heels, and his latest girlfriend won't say nice things about him without being paid.