LUCY MANLY, PHILLIP KOCH,
WOMAN'S DAY,
30 January, 2017
For the first time we can definitely proclaim that the worst journalists and publication are:
LUCY MANLY, PHILLIP KOCH and WOMAN'S DAY
Woman's Day, January 30 2017 issue, including a story by DailyMail Online, which was entirely false and with lies in almost every sentence. The internet version was even worse. None of the comments she asserts were made by Geoffrey Edelsten in respect to Brynne Gordon, and Manly made no effort to confirm her story with Edelsten or Gordon.
EDELSTEN
NEVER stated he wanted her back;
NEVER went on dates with her recently, in fact this was the first time in 3 years that he had met with her and it was to discuss litigation issues;
NEVER shopped for real estate and Brynne Gordon was never with him in any business matters;
NEVER made any effort to win her back.
Manly is an inveterate liar and her article is disgusting and is such a deviation from the journalist's Code of Ethics, that she has been nominated as Australia's Worst Journalist. In fact, she is not a journalist and together with her colleague they are both disgusting Sewer Rats. Woman's Day must accept responsibility for such a lying diatribe.
Nothing can be believed in this magazine, which specialises in fabricated stories.
Sewer Rat Phillip Koch must accept responsibility for the depraved, lying article and by defending its publication whilst knowing it doesn't have one correct fact, must be now known as Australia's Worst Journalist. Bauer Media should dismiss both of these disgusting contributors who have made Woman's Day an example of grossly fabricated lies.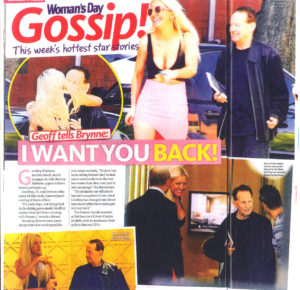 Geoffrey Edelsten and his much, much younger ex-wife Brynne Edelsten appear to have kissed and made up.
Geoffrey, 73, and Brynne, who turns 34 this week, have enjoyed a string of dates of late.
"It's early days, but being back in the dating game made Geoffrey realise what he's been missing with Brynne," reveals a friend.
Beaming Brynne even came along when her ex shopped for real estate recently. "Brynne has been telling friends they've had more conversations in the last few weeks than they ever had in their marriage," the friend says.
"it's definitely not official yet but she's surprised at how much Geoffrey has changed and about how much effort he is making to win her back."
The former couple married at melbourne's Crown Casino in 2009, only to announce their split in january 2014.