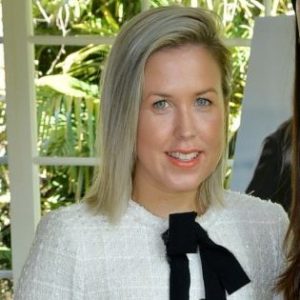 AMY CROFFEY, Journalist
The Sydney Morning Herald
Despite knowing that her article "Gabi Grecko weighs in on husband Geoffrey Edelsten's new 'girlfriend', 26" was in breach of the Domestic Violence Law and the Intervention Order granted to Geoffrey Edelsten over Grecko, Criminal Advocate Croffey persisted with the criminal breach.
No where was this article reasonable nor fair. As a true gutter journalist she never mentioned the prostitution or whore behaviour of her female subject.
Quoting the whore but not allowing her main subject to respond is gutter journalist at its worst.
Virtually every paragraph is a lie.
The prostitute claims not to know where money went but Croffey made no attempt to find the correct facts. She claimed as a brilliant gutter journalist that Edelsten is bankrupt, yet there is no truth to this. She did not get the true facts of the large sums of money given to the whore Grecko.
This gutter journalist did nothing to discover the truth that no funds were hidden or in trusts. Nor did he give money to his mother to secrete. How can a journalist just lie and manufacture an untrue story – only when Croffey is such a gutter journalist.
Croffey, you are a disgrace and Fairfax Media should terminate you as you are disgusting and can't be considered a true journalist. A terrible example of gutter journalism.
Gabi Grecko weighs in on husband Geoffrey Edelsten's new 'girlfriend', 26
http://www.bendigoadvertiser.corn.au/story/4257037/gabi-grecko-weighs-in-onhusband-geoffrey-edelstens-new-girlfriend-26/
Gabi Grecko says it is "insulting" that her estranged husband Geoffrey Edelsten's self described new girlfriend is trying to make money from their alleged relationship.
Speaking to Fairfax Media from her West Village apartment in New York on Thursday Grecko, 27, who split from Edelsten, 73, almost a year ago, accused the topless Playboy model, Ashley Kirk, 26, of using the exposure with Edelsten to boost her image.
When Fairfax Media approached Kirk for an interview about Edelsten this week, this reporter was asked by her spokesman for $1500 in return for a story about her wanting to marry the disgraced Melbourne businessman, who already has three failed marriages under his belt. However, another spokeswoman for the model and part-time actress denied to KIIS FM on the same day that they ever dated.
"That makes her look really bad and him look really bad because it looks like it is a business deal," Grecko said. "It is embarrassing for both of them. I would be super embarrassed to be her demanding money publicly. It does not look good."
However, defending Kirk, Edelsten explained to News Limited (http://www.heraldsun.com.au/news/victoria/geoffrey-edelsten-to-face-court-over-love-nest/news-story/652875b9bcda45893389425309e8387e): "In America the magazines pay and she doesn't understand Australian newspapers don't do that – she never gives interviews without getting paid."
Not surprisingly for Edelsten's estranged wife, Grecko is surprised by their match.
"she looks a little old for Geoffrey even though she is only 26," Grecko said.
The former doctor said Kirk initially fell in love with him for his brain over his money, a claim that Grecko laughed off: "I think that's hilarious. It's so ironic that the day he said she fell in love with him for his brain, she wants money. The whole thing is funny."
After getting engaged in The Birdcage at the Melbourne Cup in 2014, Edelsten and Grecko said "I do" the following June in a low-key, "tacky Vegas theme"(http://www.dailymail.co. uk/tvshowbiz/article-3119430/EXC LU S IVE-thrilling-real-deal- gabi-grecko-26-officially-marries-Geoffrey-Edels ten-72-low-key-Vegas-themed-ceremony. html) wedding in an Asian registry office. Five months later they announced their split.
Edelsten said he filed for divorce from Grecko on Tuesday in a Melbourne court, however, she said she has yet to receive notice a out e proceedings.
"I honestly wish he would file for divorce because I would ·like to move on, but he has not," Grecko said. "I would prefer if [Edelsten and Kirk] did marry because then he would divorce me."
Grecko has not filed proceedings herself because "it's an expensive process".
"I didn't ask him for anything monetary-wise Un the divorce] and I am not asking for anything but I would like him to file for divorce … and pay for the divorce. It is a different type of relationship when you have to pay someone. It is very insulting."
In 2012, Edelsten was estimated to be worth S63 million and once owned around 20 cars (http://www.smh.com.au/lifestyle/celebrity/the-fall-and-rise-to-riches-of-edelsten-and-his-young-bride-20100705-zwc6.htm1), including Lamborghinis, a Rolls-Royce, Ferraris, a Bentley, a Mercedes, and an Audi, but Grecko said she has "no idea" where his money has gone now.
When she was living in his CBD penthouse apartment, Grecko said he would give her an allowance of $50 to $100 a day, which was "only enough money to buy food".
On Wednesday, the bankrupt businessman appeared in Melbourne's Federal Court where he faces years of litigation with creditors in Australia and the United States lining up to get a piece of his Victorian assets.
"He's broke and he owes a lot of people money," she said. "The way he talked about money, what ever money he had, he would try and hide it and it was covered by different trusts.
"He said his mum was holding money for him. I think that's why he went to visit her every week because she would give him money when he went to see her. He used to say it was 'very important'."
Grecko has not spoken to Edelsten in months because she has changed her phone number. She would like if they could remain friends because they are both adults, but says there is too much hostility between them.
the Florida-born model, who met the Australian on SugarDaddy.com, has deleted her account and instead signed up to JDate, a dating site dedicated to Jewish singles .
I became Jewish when I married Geoff, so I decided to stay Jewish and I am meeting Jewish singles in my area," she said.
"I'm looking for a nice Jewish guy with a nice family, but I'm still looking."
Apart from the dating scene, Grecko is also taking DJ classes, auditioning for reality TV shows, and considering starring in more erotic videos.
Fairfax Media has sought a comment from Geoffrey Edelsten and Ashley Kirk but they did not immediately reply.