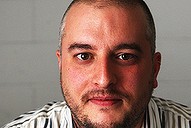 Chris Vedelago, embryonic Journalist (failed)
The Age, Fairfax Media ASX:FXJ, Apr 29, 2013
Working for The Age must be so difficult and unrewarding these days that staff such as Chris Vedelago have to stoop to either plagiarising untruths, misinformation, and other erroneous ideas from Ben Butler or have become hell bent on furthering and adding to the January 2013 notion of a 'butlerism'.
Dr Edelsten submits the following letter (see transcript below)
For those who don't know what a butlerism is, well, its the same as 'doing a Ben Butler' see Ben Butler : The Age : Doing a Ben Butler. Essentially it's pretend or anti-journalism, it's using fictional material but based on real life characters, it's using biased one dimensional information on a multi dimensional topic while having a precious few main elements such as an individuals name and a date correct, meaning it's almost total oxendung (aka Ben Butler and ie a Butlerism) masquerading as the genuine article. As such Chris Vedelago is merely the latest to have a crack, and why not? His failing career is freeze drying as his publisher sacks staff across the board. In 2013, this is the effect of having an oversupply of lazy incompetent pretend journos.
Some corrections, not exhaustive, and some of your dribble attributed to Ben Butler;
Chris Vedelago, you open your article with "Disgraced former doctor". You did not provide any reason why you would refer as to Dr Edelsten as "disgraced". Your bias is profound and a true Butlerism. It must have slipped your mind that Dr Edelsten is widely credited with;

Starting the first locum service – providing relieving doctors when principals were unavailable,
revolutionising general practice in Australia,
commencing corporate medical practice,
introducing extended-hours medical centres,
championing bulk-billing in Australia when its introduction was controversial and divisive; and.
leading significant changes in pathology delivery and medical deputising.

Chris Vedelago, where you say 'dogged by scandals and lawsuits' is biased and a Butlerism.
Chris Vedelago, where you say 'Lonnex, which used to run…the website Australia's Worst Journalist' seems to be copied from Ben Butler. You can't even plagiarise very well as you omitted the website address which is www.australiasworstjournalist.com.au, you didn't credit your Ben Butler source and you omitted details regarding the domain registration first broken by Australia's Worst Journalist on 21 Jan 2013, seen here; Ben Butler : The Age : Doing a Ben Butler
Chris Vedelago, where you state "lost his medical license in the 1980s" you omitted that the medical board had Dr Edelsten's name removed from the Medical Register in N.S.W. in 1988 as a result of being accused of a crime which he denies and refutes to this day. Further reading for you Mr Chris Vedelago;
see details in pdf form here:
http://www.geoffreyedelsten.com/appendices/flannery-evidence-proves-wrongful-conviction-edelsten
see details in transcript here:
http://www.geoffreyedelsten.com/1991-08-17-The-Age-Flannery-Evidence-Proves-Wrongful-Comviction-Edelsten.pdf
Christopher Vedelago, where you say "being convicted of soliciting hitman Christopher Dale Flannery, aka Mr Rent-A-Kill, to commit an assault." seems to be mostly plagiarized from Ben Butler, can you explain why you are cheating your readers (who are leaving you in droves)? But to get back to your biased hell bent anti-journalism, butlerism;

Charge details here: soliciting F to assault another and of perverting the course of justice by improperly obtaining an adjournment of F's trial by falsely certifying that he was unfit to attend.
Chris Vedelago, Christopher Dale Flannery was in hospital and unable to attend his trial and the Dr Edelsten medical certification was proper and correct.
Chris Vedelago, you omitted that;

Geoffrey Edelsten denied and continues to deny the charge.
The judge decided to go ahead with the illegal phone tap evidence anyway and instructed the jury it was important when other much more innocent interpretations could be made.
The phone tap was the only evidence.
The phone tap was ambiguous, it was misinterpreted as being about a stalker/extortionist (not a former patient) when other innocent interpretations were just as likely.
Further detailed analysis of the evidence was undertaken by the retired Supreme Court Justice of Queensland Peter Connolly QC who concluded that the trial miscarried and that the jury was wrongly directed.
Edelsten is the only person in Australia to be convicted based on illegal phone tap evidence.

Christopher Vedelago, where you said "convicted" you failed to say Dr Edelsten denies the charge, that a QC's opinion was that the trial miscarried, that it was based on ambiguous and illegal evidence, that Dr Edelsten is the only Australian to be convicted based on this type of illegal evidence and that the evidence was the catalyst for the Australian Government instituting the Edelsten Amendment.
Christopher Vedelago (failed journalist) you've done an excellent job of a Ben Butler; you should be proud. A truly biased, untruthful, incomplete, incompetent, fictional piece. To cap it off you say "Mr Edelsten could not be reached for comment." perhaps because you didn't try very hard, and you omit to state that you sent only 1 email and that only hours before you published your one way rant.
And now a piece of unsolicited advice for you Mr Chris Vedelago; when researching (if you know what that is) for an article do not take work previously done by other pretend journalists as being factual. All that you and others have achieved is to perpetuate journalistic falsehoods from the 1970's, 1980's, 1990's, and up to date. Reality does not lay in those erroneous articles.
Dr. Geoffrey Edelsten submits the following;
Sir,
You are a disgraceful liar. You are amoral, unethical and incompetent.
Whilst you claim to possess expertise in property, which is doubted, you have very little knowledge in Corporations Law and State Payroll law.
Your article was solely designed to cause me harm and grief and was biased, and you erred by significant omissions.
The term "doctor" is an honorific used by medical graduates and other health care professionals. They do not possess doctorates – my Ph.D. is something which you already have on file. In addition, the Victorian and N.S.W. Medical Boards always refer to me as "doctor". What has this to do with your story?
In rehashing the 1990 events, you failed to mention two Supreme Court Justices (retired) Opinions that the conviction was in error and should be overturned, as there was insufficient evidence and the trial miscarried because of error in the Judge's directions. What has this to do with your story?
More recently, a judicial officer, on receiving evidence of philanthropy exceeding $700,000, innovations in bulk-billing services to the community, said "Dr. Edelsten was an example to the rest of the community."
As the matters you allude to are subject to litigation, I do not intend debating them in the media. All I can say is that all companies of which I am an officer have paid all their tax, including payroll tax, totalling many millions of dollars. Company 141 732 210 Pty Ltd never employed any staff. We will be vigorously defending these matters. We have placed in liquidation companies that are no longer trading since my business was sold.
You disgracefully lied when you said an opportunity was given to me to comment on your first biased, inaccurate and harmful story. My contact details are with Fairfax.